Have you been looking for a new career or just looking for a change?  While searching the web I found Resume-For-You.com. This writing service website is very new, and has not yet built an online status and as with all new businesses I decided to get in contact with them and see if they are the "Best Professional Resume Writing Service, Can Get You the Job" as their slogan says.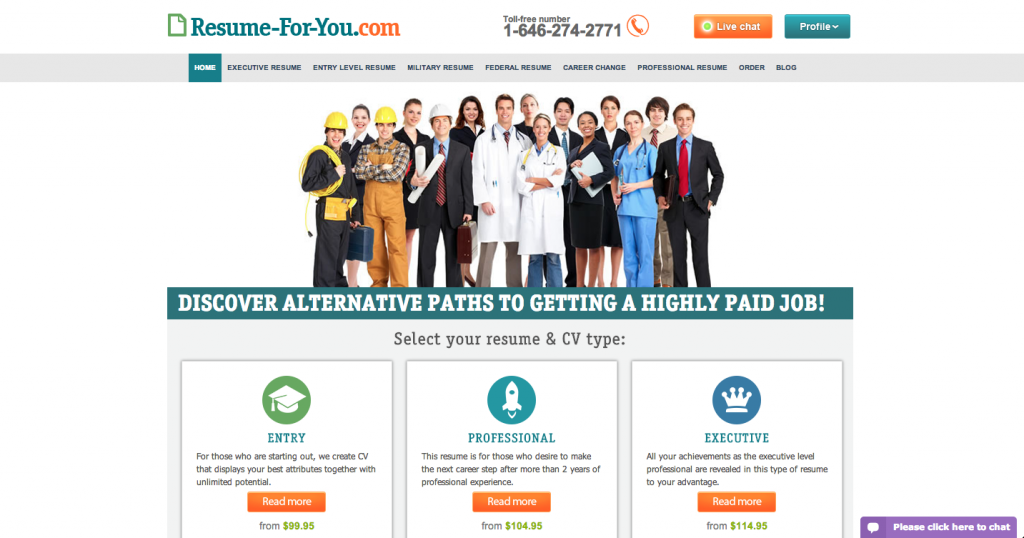 Is this service professional?
Looking at their page gives you the impression that they know what they are doing regarding the service they provide.  Using their website is very fast and has all the basic information buttons available and they provide you with a toll free number to contact them. Live chat is available and Profile creation to be able to log into the website.  The only thing I noticed is that they did not provide you with an email contact and there is no feedback page for reviews regarding their service provided.
They provide you with a personalized resume that are made up of different packages and prices ranging from Resume writing, Resume Editing, CV Writing, CV Editing and Cover Letter Writing. They specialize in the following application services:

Entry:  for those who are starting out, they create a CV that shows your best features for finding the right job the first time
Professional:  for those who are ready to make the next career step after working more than two years showing all your featured skills
Executive:  this service provides you with all your key achievements over the long period of time you have worked and what you have accomplished over the years of service regarding skills, talents and knowledge.
Federal:  when applying for Federal Government vacancies a specific type of resume is needed and they provide you with the quality you need in finding that job.
Military:  these are specific types of resumes written only for those in the Military
Career Change:  for those who are ready to pursue their dream job
Professional Resume Writers Available
They provide you with qualified resume writers and are available 24/7 to assist you.  You receive individual attention regarding the writers they use and many questions are asked to be able to complete your CV or Resume. The Interview is guaranteed and your document is delivered in 24 hours and you have a choice of three formats PDF, DOC or TXT.
My conclusion regarding this resume writing service, I was very happy with their service regarding my resume and it had been done very professionally, where changes had been needed to be made they provided me with help without any complaints.
Forwarding my document to me in my account with every change made for my approval long before the deadline.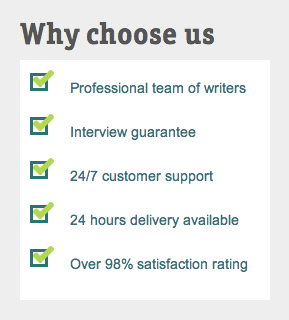 My resume was well organized and interesting.  It has all the relevant information needed, my only problem is that it cannot be used to apply for other positions except for the mentioned experience I have, but overall I am very happy with the service.  They do provide you with the quality of work as advertised and would recommend them to all my friends.